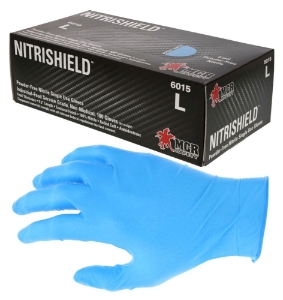 Large, 9.5" L, 4 Mil, Blue, Polymer Coated/Textured Premium Grade Nitrile, Rolled Cuff, Standard Finger, Latex Free, Reversible Pattern, Disposable Gloves (100 per Dispenser)
Applicable Standard: 

FDA, Permeation EN ISO 374-1:2016/Type B, E374-1:2016 Chemical Tested

Application: 

Industrial/Food Service Grade, Non-Medical

Material: 

Premium Grade Nitrile

Shipping Weight: 

15.720 Pound

Type: 

Standard Finger, 1-Dip, Latex Free, Reversible Pattern, Non-Sterile

Thickness 4 Mil
Touchscreen Friendly Gloves Allow Users to Operate Phones or Other Smart Devices without Removing Your Gloves; Non-Sterile; Component Materials Comply with All Federal Regulations for Food Contact; 4 Mil Blue Powder Free Nitrile
Disposable Gloves; Type Standard Finger, 1-Dip, Latex Free, Reversible Pattern, Non-Sterile; Size Large; Overall Length 9.5 Inch; Material Premium Grade Nitrile; Color Blue; Cuff Type Rolled; Finish Polymer Coated/Textured; Application Industrial/Food Service; Applicable Standard FDA, EN ISO 374-1/Type B, KPT E374-1; Thickness 4 Mil
Nitrile contain no latex proteins and offer excellent resistance to punctures and tears. Nitrile gloves are three times more puncture resistant than rubber and can be used to offer superior resistance to many types of chemicals. This glove is an excellent alternative for individuals who experience allergic reactions to latex. The 6015 is a industrial/food service grade powder free nitrile glove that measures 4 mil in thickness and is 9.5 inch in length. Component materials comply with all federal regulations for food contact.