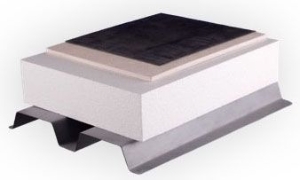 4' x 8', 1" Thick, 10 PSI, R3.9, 180 Deg F Short Term/165 Deg F Long Term, High Performance, Square Edge, Rigid, EnergyShield® Pro Roof Insulation
Insulation Thickness: 

1 Inch

Roll/Sheet Dimensions: 

4 Foot x 8 Foot

Type: 

Rigid, Square Edge, High Performance

Compressive Strength 10 PSI
Multiple Thicknesses and Compressive Strengths; Design Flexibility for Custom Roof Profiles; Stable, Long Term R-Value to Protect Your Structure for Years to Come; Minimal Long-Term Moisture Retention with the Ability to Dry Quickly; Environmentally Friendly with a Low Global Warming Potential and Zero Ozone Depletion Potential; Lifetime Limited Warranty
Roof Insulation; Type Rigid, Square Edge, High Performance; Insulation Thickness 1 Inch; Roll/Sheet Dimensions 4 Foot x 8 Foot; Maximum Temperature Rating 180 Deg F (Short Term), 165 Deg F (Long Term); Application Square Edge Insulation Board, Tapered; Applicable Standard UL, CAN/ULC S102.2/S701, ASTM C578, IECC, IRC, IBC, NFPA 285; Compressive Strength 10 PSI
Insulation is a vital component of a building's envelope and contributes to the overall energy efficiency performance. ThermalStar's versatile line of roofing products offers high performance rigid insulation for all your new and re-roofing needs. We have a dedicated department to help meet the design and specification needs of your project. With more than 50 years of experience, all of our roofing products are manufactured under an industry-leading quality control program monitored by UL and ICC-ES. ThermalStar Rigid Insulation provides unmatched quality, with a stable long-term R-value that will last the lifetime of your structure.