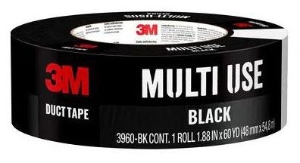 1.88" x 60 Yd, Black, Rubber Adhesive, Duct Tape
Material: 

Rubber (Adhesive)

Great for Bundling, Taping Cords, Patching, Reinforcing and More; Suitable for Temporary Repair; Great Strength for Durability; Tears Vertically and Horizontally for Versatile Application; Flexible Design Stretches and Conforms with Ease; Applies Smoothly for a Clean Look; Adheres to Multiple Surface; Ideal for Use Indoor
Duct Tape; Length 60 Yard; Width 1.88 Inch; Material Rubber (Adhesive); Color Black
Whether you want your quick fix to blend in or stand out, 3M Colored Duct Tape is the boldly hued solution to match your project's color scheme. Equipped with strong adhesive and a water resistant backing, this tape is perfect for your temporary repairs. With multiple colors to choose from, this tape is ideal for organization, labeling, crafts–and even automotive fixes. Give your repair the powerful combination of color and strength with 3M Colored Duct Tape.