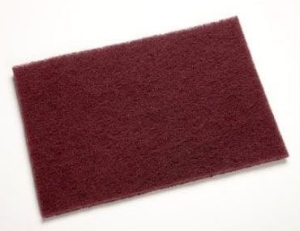 9" x 6", Very Fine Grit, A Grade, Maroon, Aluminum Oxide, Rectangular, General Purpose Hand Pad (60 per Case)
Abrasive Material: 

Aluminum Oxide

Position Type Better; Color Maroon
Superior Alternative to Steel Wool, Wire Brushes, Sandpaper and Other Nonwoven Products for Cleaning or Finishing Tasks; Very Fine Grade Aluminum Oxide Abrasive Cleans, Finishes, Grains, Denibs and Defuzzes; Suitable for Use on Wood, Metal, Plastics, Ceramics, Porcelain, Rubber or Composites; Reusable Pad Resists Tearing, Splintering, Shredding, Loading and will Never Rust, Providing a Long, Useful Life; Can be Folded, Stacked or Rolled for Effective Cleaning or Conditioning on Flat, Irregular or Contoured Surfaces
General Purpose Hand Pad; Shape Rectangle; Length 9 Inch; Width 6 Inch; Grit Very Fine; Grade A; Abrasive Material Aluminum Oxide; Application Blending, Cleaning, Deburring, Finishing, Scuffing, Surface Preparation, Hand Sanding, Aerospace, AOEM, Automotive, Composite, Maintenance and Repair, Manufacturing, Marine, Metalworking, MRO, Paint Preparation, Transportation and Heavy Equipment; Position Type Better; Color Maroon
Scotch-Brite™ General Purpose Hand Pad 7447 combines flexibility with effective cutting action and precise hand control to accomplish tough cleaning jobs or produce fine finishing results, use after use. Very fine grade aluminum oxide abrasives cut fast and fine, leaving a smooth, finished surface. Suitable for use on a wide variety of materials and for many different tasks.