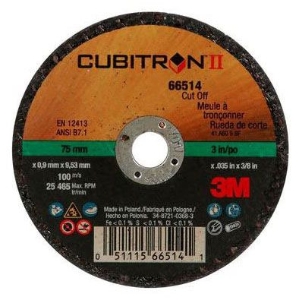 3" Diameter, 0.035" Thick, 0.375" Mounting, 25465 RPM, 60 Grit, Black, Precision Shaped Ceramic, T1, Abrasive Cut-Off Wheel for Metal/Stainless and Mild Steel (50 per Case)
Mounting Size: 

0.375 Inch

Attachment Type Center Hole; Form Type Right Angle; Position Type Best
3M™ Cubitron™ II Cut-Off Wheels with Precision-Shaped Grain are Engineered to Cut Faster than Competitive Ceramic Products, Offering Significant Productivity Gains; Triangular Shaped Ceramic Grain Wears Evenly, Runs Cool and Optimizes Mineral Breakdown, for Extra Long Life; Rigid, Reinforced Resin-Bonded Wheel Slices through Almost All Materials Including Stainless Steel, Mild Steel and Aerospace Alloys; Wheel Must have a Maximum Operating Speed Greater than or Equal to the Maximum Speed of the Power Tool Used; Must be Used with a Wheel Guard that Fits the Size of the Cut-Off Wheel
Abrasive Cut-Off Wheel; Type T1; Diameter 3 Inch; Thickness 0.035 Inch; Mounting Size 0.375 Inch; Grit Size Number 60; Abrasive Material Precision Shaped Ceramic; Bond Reinforced Resin; Speed Rating 25465 RPM; Cut Material Metal, Stainless and Mild Steel; Application Cutting, Grinding, Metal Working; Color Black; Attachment Type Center Hole; Form Type Right Angle; Position Type Best
3M™ Cubitron™ II Cut-Off Wheel features 3M Precision Shaped Ceramic Grain to bring you an exceptionally fast-cutting and long-lasting wheel for use on almost all materials, including stainless steel, mild steel and aerospace alloys. This cut-off wheel surpasses 3M™ High Performance wheels in both cut and life to deliver significant gains in productivity. Experience the power of 3M Precision Shaped Grain to provide a cool, extra-sharp, quick cut long after other wheels are consumed. Unlike coated abrasive discs, which shape or sand objects using the disc surface, cut-off wheels provide perpendicular cuts, using the outer edge of the wheel. Abrasive cut-off wheels are typically used for cutting through metal, for example auto body or marine sheet metal, stainless steel tubing, exhaust pipes, clamps and rusted fasteners. Cut-off wheels are attached to a cut-off wheel tool (sold separately) and must always be used with a wheel guard for safety.