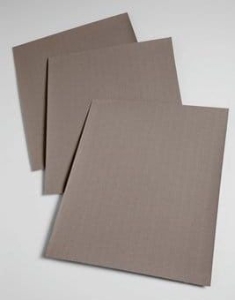 9" x 11", 320 Grit, Black, Aluminum Oxide Abrasive, J-Weight Cloth Backing, Closed Coat, Utility Cloth Sheet (250 per Case)
Color Black; Coat Type Closed; Form Type Utility
Fast-Cutting Aluminum Oxide Abrasive Sheets Come in Ten Standard Grades to Suit a Variety of Tasks; Flexible Cloth Backing Works Well on Contours and Can be Twisted or Folded; Cloth Backing is Both Flexible and Durable Enough for Machine Use; Sheets Can be Torn by Hand for Convenient Sizing and Reduced Waste; Suitable for Use on Both Ferrous and Non-Ferrous Metals
Utility Cloth Sheet; Width 9 Inch; Length 11 Inch; Grit Size Number 320; Abrasive Material Aluminum Oxide; Backing Material J-Weight Cloth; Application Deburring, Finishing, Surface Preparation, Marine, MRO, Defense, Facility Management, Paint; Color Black; Coat Type Closed; Form Type Utility
3M™ Utility Cloth Sheet 211K provides a light-weight cloth sandpaper used for hand sanding. This closed coat product uses aluminum oxide mineral in its construction. These rolls come in a range of grades for common applications such as repairing (metal finishes, rust or other contaminant removal), deburring, blending and surface preparation for paints and coatings.