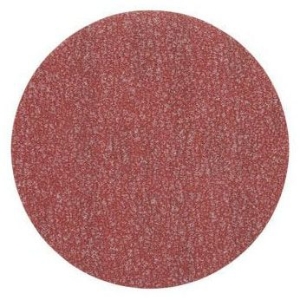 6" Diameter, 5 Mil Thick, 12000 RPM, 80 Medium Grit, P Grade, Brown, Aluminum Oxide, Hook and Loop, Film Disc
Coat Type Open; Position Type Better; Used on Material Type Aluminum, Carbon Steel
Premium Aluminum Oxide Abrasive Offers a Fast Cut and Long Life and Performs Well on Many Surfaces 3M™ Hookit™ Disc is Easy to Change and Reuse, Maximizing Utility for the Life of the Disc; Durable Film Backing is Tear-Resistant and Provides a Uniform, Consistent Finish; Open Coat Construction Provides an Aggressive Cut; Load-Resistant Coating Helps Prevent Dust and Debris from Clogging the Disc; Excellent for Contoured Surfaces
Film Disc; Type Hook and Loop; Diameter 6 Inch; Thickness 5 Mil; Grit Size Number 80; Grit Medium; Abrasive Material Aluminum Oxide; Grade P; Backing Material Film; Speed Rating 12000 RPM; Color Brown; Application Blending, Finishing, Sanding, AOEM, Composite, Metal Working, Paint Preparation, Transportation and Heavy Equipment, Wood Working, Coating and Corrosion Removal, Composite and Advanced Material; Coat Type Open; Position Type Better; Used on Material Type Aluminum, Carbon Steel
3M™ Hookit™ Film Disc 375L delivers outstanding tear resistance, flexibility and a consistent, uniform finish on a variety of substrates. Premium aluminum oxide abrasive grain offers a fast cut-rate and extended product life for greater productivity. Durable film construction provides the tear resistance needed for the use of coarse grades in high production metalworking environments, particularly where edge wear is a concern. 3M™ Hookit™ Film Disc 375L is designed for use with a random orbital sander and the 3M™ Hookit™ backup pad (sold separately). It comes in a range of grades for various applications from rough sanding to very fine finishing.