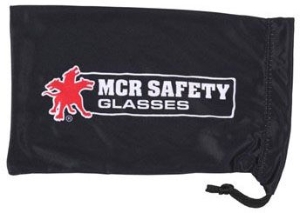 Soft Black, Microfiber, Cinch-Up Pull String, Eyeglass Bag (1200 per Pack)
Holds Most Average Safety Glasses and Prescription Eyewear; MCR Safety Glasses Logo
Eyeglass Bag; Type Cinch-Up Pull String; Material Microfiber; Color Soft Black
MCR Safety offers a wide variety of products to assist in the care and maintenance of your safety eyewear. From cases, cords and everything in between we have your covered for all your eyewear accessories needs. The 208 is a black microfiber safety bag with a drawstring closure. The black color hides dirt and stains. It features and cinch-up string to keep glasses secure inside and dirt out. The satin bag is soft enough to use as a lens cleaning cloth and a storage bag. Be accessorized with MCR Safety eyewear bags.