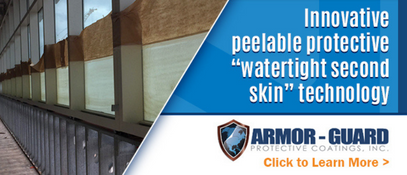 Smalley & Company now offering Armor Guard Protective Coatings
Construction crews are constantly on a time crunch and at the mercy of funding, the weather, and other miscellaneous delays. Additionally, a major challenge many contractors and construction crews have to deal with is protecting delicate elements during the construction process, such as window walls, flooring, granite, marble, curtain walls, and bath enclosures. Damaging these components only results in pushed deadline and added stress. Fortunately, peelable, protective coatings can help shield these valuable assets, as well as your time, providing a much-needed solution. A huge obstacle of the construction process is to protect essential elements such as window walls, curtain walls, bath enclosures, flooring, granite, marble, travertine, quartz and more before the construction is finished. Should these be damaged, milestones may be pushed back while repairs are made.
Armor Guard Protective Coatings uses innovative technology to provide a "watertight second skin" non-adhesive bond that is applicable in both interior and exterior settings. Features include:
    
UV blocking agents to protect substrate and block all UV bond and/or transfer
   
Protection against water and physical damage
   
VOC and solvent-free
In addition, the non-adhesive bond is:
    
Lab tried and tested
   
Sprayed or rolled on
   
Simple, easy removal
   
Real world approved
About Armor Guard Protective Coatings
Armor Guard has over 10 years of experience, working in the manufacturing and construction industries. Their portfolio includes contractors such as Continental, GAMMA USA, Hensel Phelps, and Skanska.
To learn more about how their innovative solution and how it can benefit you, reach out to us today.