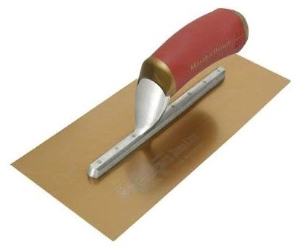 5" x 9-3/4", Golden Stainless Steel Blade, Soft Grip DuraSoft Handle, DuraFlex Finishing Trowel (12 per Pack)
Blade Material: 

Golden Stainless Steel

Handle Material: 

DuraSoft

Shipping Weight: 

1.400 Pound

Apply Plaster with Consistent Smoothness for a Professional-Quality Finish; Choose Your Preferred Blade and Mounting Size; Made in USA with Global Material
DuraFlex Finishing Trowel; Length 5 Inch; Width 9-3/4 Inch; Handle Type Soft Grip; Handle Material DuraSoft; Blade Material Golden Stainless Steel
The flat, yet flexible blade of the MARSHALLTOWN DuraFlex Finishing Trowel helps you apply plaster with more consistency for professional-quality finishes in any EIFS or stucco project. Each of these Finishing Trowels are made with the highest grade hardened and tempered golden stainless steel that is then properly shaped and fastened with strong stainless steel rivets. Along with its durable flexibility, our PermaShape® guarantee makes sure your Finishing Trowel will maintain its original shape. Choose your preferred blade size, mounting length, and handle material – soft grip DuraSoft® or hardwood. All varieties of this trowel are Made in the USA with Global Materials.